About Us
Bardsley Products was established in 2003 to provide and manufacture cruelty-free products that above all else, actually work for horses in all levels of riding, showing and disciplines.
Because we want our horses to feel good when being bathed and believe that our horses deserve the absolute best, we have created products that not only smell good but feel good. By featuring products with natural botanical sources blended with essential plant oils we believe that we have achieved our goals and have created a superb product for the fine equine!
Hannah Gimbel, Owner and President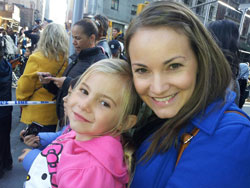 Hannah Gimbel was born and raised in Santa Barbara where she was first introduced to horses at Raintree Ranch Equestrian Center at the age of 8. Horses soon became much more than just a hobby and she began participating in Eventing and Dressage competitions. Hannah has been involved in the horse world from teaching riding lessons to beginners, to managing a barn, and now owning and operating Bardsley Products, Inc. Hannah's personal mission, as well as professional mission, is to give back to the community and the environment. It is Hannah's goal to make Bardsley Products a socially responsible and environmentally friendly company and provide customers with a great product. Hannah enjoys being outdoors and loves spending time with her spirited eight-year-old daughter, her horse, her two dogs, and her cat. Hannah is looking forward to continuing to grow Bardsley Products, Inc.